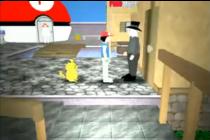 Help Ash capture all the Pokemon for free.
Pokemon PC in other languages:
Pokemon PC en castellano
Pokemon PC em português
Pokemon PC in italiano
Pokemon PC w języku polskim
Pokemon PC in het Nederlands
Pokemon PC is an entertaining version for the PC of the Nintendo saga, completely free, where you can become the best Pokemon trainer!
In Pokemon PC you help Ash, followed by his inseparable companion Pikachu, through the distinct scenes of the game, fighting against all the other Pokemon and capturing them to increase your collection.
The graphics in Pokemon PC can't compare to the original but the story follows the same lines. Capture the Pokemon whatever it takes!
If you are a true fan of the Pokemon series and the videogames, don't miss this PC version. Download Pokemon PC for free!
Searches related to Pokemon PC