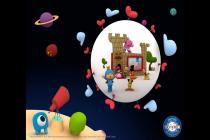 Enjoy the world of Pocoyó while you protect your screen.
Pocoyó World in other languages:
Pocoyó World en castellano
Pocoyó World in italiano
With this Pocoyó World screensaver you get fun images based on the popular cartoon series featuring Pocoyó passing across your monitor each time your sscreensaver activates, showing an interesting point of view: from some curious aliens watching Earth through a telescope.
From there, in Pocoyó World they are watching all the typical elements of the world of Pocoyó, so you can see him, alone and also with his friends (Pato, Ely, Loula, Pajarito and all the others) in distinct situations: visiting the zoo, at the circus, playing at home ...
Also, Pocoyó World brightens up these scenes even more with some fun sounds, with you will undoubtedly recognize. Enjoy the whole universe with the fun characters of Pocoyó World!
Searches related to Pocoyó World