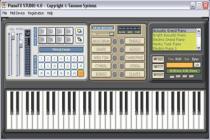 Create and record your music compositions on the piano.
PianoFX Studio in other languages:
PianoFX Studio en castellano
PianoFX Studio em português
PianoFX Studio in italiano
PianoFX Studio w języku polskim
PianoFX Studio in het Nederlands
PianoFX Studio is an advanced piano synthesizer for your PC! You can play the piano with the keyboard or mouse, as if they were the keys on the piano.
The PianoFX Studio keys have been designed as an authentic and professional synthesizer which plays high quality sound. In PianoFX Studio there are 127 musical instruments, percussion and sound effects to choose from: piano, guitar, violin, viola, tamborine, chello, tuba, saxophone, applause, telephone, etc.
With PianoFX Studio you can record your music compositions (in WAV format) and listen to them whenever you like.
Searches related to PianoFX Studio