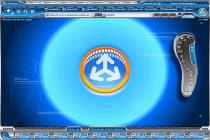 A new browser with an attractive, futuristic look.
PhaseOut in other languages:
PhaseOut en castellano
PhaseOut em português
PhaseOut in italiano
PhaseOut is a new, free web browser, with a design inspired by futuristic themes, very quick and with numerous options. PhaseOut includes what are now basic options, like integrated anti-popup, cleaning tools, advanced search bar, tab browsing and previewing ... and an attractive interface that's simple to use. There are diverse skins to personalize it and have the program as you like. And an advantage you should take into account: on installing PhaseOut it doesn't modify any default aspect of your browser.
Searches related to PhaseOut