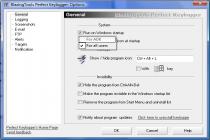 Control everything that happens on your PC when you aren't there.
Perfect Keylogger in other languages:
Perfect Keylogger en castellano
Perfect Keylogger em português
Perfect Keylogger in italiano
Perfect Keylogger w języku polskim
Perfect Keylogger in het Nederlands
Do you want to be sure that your children or employees are making good use of the PC when you aren't around? Are you suspicious that, behind your back, someone is going places on the PC that they shouldn't? Well, relax, because you don't need a private detective: Perfect Keylogger will do it for you.
Perfect Keylogger is a practical keyboard monitor, completely invisible and undetectable by the PC user. It doesn't even appear in the Windows task administrator. Through it you can get log files with all the keys pressed on the PC while you weren't there. It can also take periodic screenshots, and store them compressed on to the hard drive, so you can look at them later.
It is worth special mention that Perfect Keylogger has a system of alerts. You can indicate a series of words or phrases that you are especially keen on watching for, and wait until the program tells you when it detects someone writing them.
Searches related to Perfect Keylogger