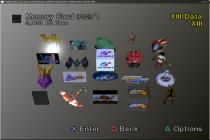 Play Final Fantasy, Metal Gear or Kingdom Hearts for free on your PC.
PCSX2 in other languages:
PCSX2 en castellano
PCSX2 in italiano
PCSX2 w języku polskim
PCSX2 is a magnificent free emulator of the Sony PlayStation 2, which gives you all the features to play your favourite games on the PC with full fidelity. All controls, options, BIOS, memory card simulator for savegames ... you'll find nothing missing.
Thanks to PCSX2 you can instantly ennjoy legendary titles and different versions of Final Fantasy, Kingdom Hearts, Marvel vs. Capcom, Devil May Cry and many others. The emulator itself includes a compatibility code that tells you which games run on PCSX2 and which games don't.
Before using PCSX2, you must perform an initial configuration to ensure that performance will be optimal for the emulator on your PC. Adjust the sound, controls, installed plugins to extend the capabilities of the program, etc.
Searches related to PCSX2