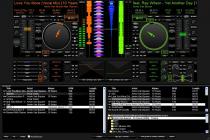 Mix your music like an authentic DJ.
PCDJ DEX in other languages:
PCDJ DEX en castellano
PCDJ DEX em português
PCDJ DEX in italiano
PCDJ DEX w języku polskim
PCDJ DEX in het Nederlands
PCDJ DEX is a software application to mix songs. It is really easy to use, and you can also record your sessions in MP3 format.
You can play and mix all types of music files with PCDJ DEX, like MP3, OGG, WMA, WAV, FLAC or directly from your CDs.
To edit the sound you can speed up or slow down the tempo during the song, add sound effects, change the tone of the song and many other options which make PCDJ DEX a magnificent tool for creating your sessions.
Also, if you have a sound card with two audio outs, you can pre-listen to the mixes in your headphones. PCDJ DEX has everything needed to make you a pro DJ!
Searches related to PCDJ DEX