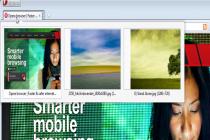 Powerful, fast and simple web browser.
Opera in other languages:
Opera en castellano
Opera em português
Opera in italiano
Opera, though it sounds like a musical style name, is one of the best web browsers on the current market, providing easy navigation through the Internet, thanks to its numerous tools.
Opera has a simple search tool, with which if you have visited a site of interest, but you can't locate it, the browser will help you find it quickly and smoothly. In addition, another tool incorporates synchronization with portable devices to access your favourite pages where and how you want.
Of course, the Opera displays are compatible with all Internet standards. Moreover, another of the interesting and very different tools is one intended to increase the font size of the screen, very useful if you have difficulty viewing.
Like other browsers, Opera is highly customizable. This includes about 100 styles to give the visual style that best suits you. Also, you can place on your desktop various widgets (small Web programs) linking with various applications in the browser.
Searches related to Opera