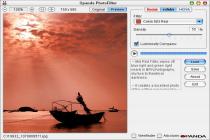 Apply filters, effects and colour touches to your images.
Opanda Photofilter (Panther Style) in other languages:
Opanda Photofilter (Panther Style) en castellano
Opanda Photofilter (Panther Style) em português
Opanda PhotoFilter is a free application for graphic editing which lets you make adjustments, corrections and improvements to your photos via colour filters.
It is as simple as choosing the photo, choosing the filter, and adjusting a pair of parameters before applying it. The image is also saved in its original form, so that if you don't like the results of the filter, you can go back and try again with something different.
With the Panther Style edition of Opanda PhotoFilter you can choose among more than a hundred filters, and select the one which perfectly matches your tastes and needs, adding a totally distinct look to your photos.
Searches related to Opanda Photofilter (Panther Style)