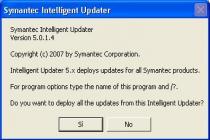 An update pack for Norton Antivirus.
There are new virus threats which appear daily, so that means you need the right protection to avoid giving them access to your hard drive. At Norton they are aware of this, and always offer their customers update packs. Thus Norton Antivirus DAT Update is a downloadable pack with which to update your virus lists for your Norton Antivirus.
It is thus highly recommended to install Norton Antivirus DAT Update if you are a user of this quality antivirus, as that way you are guaranteed that your hard drive is protected from these new threats. And most importantly, if you are a user of more than one Norton product (Internet Security, 360, Symantec Endpoint, etc.), with Norton Antivirus DAT Update you can update them all.
All this in one simple pack which is offered as a free download, which you just have to run and its ready. It doesn't get any simpler or faster.
Searches related to Norton Antivirus DAT Update