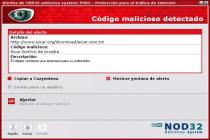 A highly reputable antivirus.
NOD32 Antivirus in other languages:
NOD32 Antivirus en castellano
NOD32 Antivirus em português
NOD32 Antivirus in italiano
NOD32 Antivirus w języku polskim
NOD32 Antivirus in het Nederlands
NOD32 Antivirus is a highly secure resource, fully consolidated in the elite sector, which claims to offer many advanced features and high quality in its entirety. Worms, trojans, rootkits, phishing practices, harmful codes of various kinds, etc. The powerful tentacles of NOD32 are able to strangle any threat that you find your way, and also you can now enjoy it in other languages.
And as if this were not enough, NOD32 Antivirus can identify dangerous and as yet unidentified files by heuristic methods. NOD32 is updated very often, integrates with Wndows Security Center, and is able to both detect and remove potentially malicious files.
Other advantages of NOD32 Antivirus are its low PC resources, its high-speed in analyzing drives, folders or individual files, the intuitive nature of its interface, etc. It is also endorsed by the satisfaction of millions of users around the world. Now all you need to do is download it for free to try for yourself.
Searches related to NOD32 Antivirus