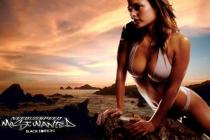 Become the most wanted person alive.
The Need for Speed gaming saga has recently become one of the most popular car racing games ever, combining street driving challenges, tuning and police chases, and this Need for Speed Most Wanted has all of it.
With all the excitement of the Need for Speed car races, Most Wanted offers you the chance to drive the best cars, esperience the sensation of driving flat out, and become the most wanted person alive. As you advance through the game and win, you can unblock new pieces to tune your car with. But keep an eye on your surroundings, because the competitions are illegal, and the police are always looking for you. All this with impressive graphics.
Two fascinating gaming modes await you in Need for Speed Most Wanted: challenge and race modes. But there are also seven police chase levels. How far will you get?
Searches related to Need for Speed Most Wanted