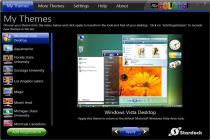 A desktop theme manager for restless spirits.
MyColors in other languages:
MyColors en castellano
MyColors em português
MyColors in italiano
MyColors w języku polskim
MyColors in het Nederlands
There are many users who are restless and non-conformist, and who like to continually change the graphic look of their operating systems. This MyColors has been designed specially for them. It's a program which works to easily manage your desktop themes.
MyColors already includes diverse themes that you will be able to adapt to your liking and personal preferences, but apart from them you can also administer the ones you have in your PC, or those you will acquire in the future. All of them are perfectly organized and ordered in just one application: the MyColors manager.
Also, on the MyColors website you can download incredible desktop themes from basketball teams, ice hockey teams, about cars and many other themes. All of them include, of course, the standard Windows XP theme. This way you can always return to the standard look of your system each time you want, just by pressing one button.
Searches related to MyColors