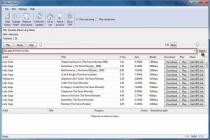 Download your favourite music for free.
Music Frost in other languages:
Music Frost em português
Music Frost in italiano
Nowadays music accompanies us wherever we go, at home, at work, on public transport, on holiday, etc, via diverse devices like MP3, MP4, radio, television, mobiles, PCs, Internet, … so it is unthinkable to live in a world without music.
Surely at least once you have heard a piece of music you really liked, and have wanted to be able to download it. Music Frost is a simple tool designed so you can download any song in MP3 format, even when you don't know the title or artist.
To download a song with Music Frost just specify a phrase from it in the program search field, and in a few clicks you will have that song in your PC hard drive. Music Frost offers no limitations for the number of downloads nor their download speed.
Music Frost is totally free, so that you don't have to pay anything for the music you download, it's easy to install and use, and has no limits. What are you waiting for to try it?
Searches related to Music Frost