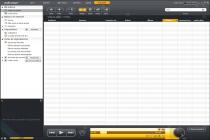 A great audio player, with an on-line hard drive and transfers to mobile devices.
Mufin Player in other languages:
Mufin Player en castellano
Mufin Player em português
Mufin Player in italiano
Mufin Player offers you a very complete audio player, both for playing back music and for using audio management tools, offered here in its free version.
From the Mufin Player visual interface, which is multilingual, you can easily play back audio in many formats (the most common ones plus some others). But Mufin Player also lets you administer your music collection, in digital format, and easily transfer files to any portable player, even changing the file format if necessary, via Mufin Player itself.
And that's not all, because this complete Mufin Player also offers, for free, a "cloud" hard drive, with 2GB of space available to you, so you can save the music you want there, and always have it accessible wherever you are!
Searches related to Mufin Player