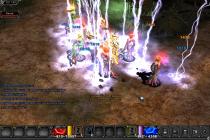 Choose your character and enter the mystery.
MU Online in other languages:
MU Online en castellano
MU Online em português
MU Online in italiano
MU Online w języku polskim
MU Online in het Nederlands
MU Online is a fantastic MMORPG, inspired by the legend of the lost continent of Mu, together with remnants of medieval mythology, which offers you a spectacular world in which to fight against evil, develop your character and be surrounded by players from across the world.
Via a gaming style and some scene designs that really remind you of the excellent classic action RPGs like the acclaimed Diablo II, MU Online has attracted a large number of followers who form one of the biggest communities that exist for this type of RPG.
So, have no more doubts and enter the MU Online world for yourself, choose who you want to be, and prepare to fight without stopping to make yourself number one on the continent of Mu!
Searches related to MU Online