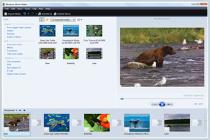 A complete and powerful video editor for Windows XP users.
Windows Movie Maker for XP is a powerful video editor from Microsoft, which allows less experienced users to create videos and movies, apply effects of all types (brightness, mirror effect, transition effects, etc), capture videos from external sources (cameras) and can also work with the usual multimedia formats.
The best thing about Windows Movie Maker is its ease of use. Almost anyone can get professional results by dragging and dropping objects into the screen. At the end, you can record your creations in digital format, send them to a website or via email, send them back to a video camera, etc.
Other interesting options in this great video editor are that you can add music and narrations, save a copy of your most important documents to a digital camera, or add titles to your work. Windows Movie Maker for XP finally puts video editing within reach of everyone, due to its simplicity and price, because it's free.
Searches related to Windows Movie Maker for XP