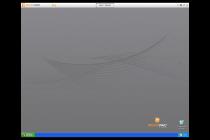 A parallel operating system to Windows and which only takes up 7MB of space.
MojoPac in other languages:
MojoPac en castellano
MojoPac works as if it were a parallel operating system to Windows (in other words it works under Windows, you can't start the PC from it), totally functional, and has the advantage that it takes up less space. This means that you can carry it and run it from a USB device or an iPod.
Once installed, MojoPac acts like an independent operating system. You can store and manage files, install programs, games, etc that will stay in the portable device you have stored the system in.
The MojoPac graphic setting is quite similar to Windows, above all in the most important elements: Start menu, icons, taskbar and so on. The space to install programs and other things in this system depends on the space available in the device you have stored your MojoPac.
If you have a USB pendrive or an iPod with a lot of space then you can even install games.
Searches related to MojoPac