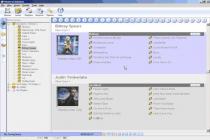 An excellent music player and organizer with which you can access all your music quickly.
Moderal Jukebox in other languages:
Moderal Jukebox en castellano
Moderal Jukebox em português
Moderal Jukebox is a music player and organizer for personal use that lets you play a file, a directory, a disc and even all the discs of your favourite artist.
But the best of all is that Moderal Jukebox additionally can find and organize music files in your hard drive as albums, automatically, showing the cover for each one, and much more.
But also, Moderal Jukebox supervises your habits when listening to music, and automatically creates a personal log with the songs you most often play, the songs most listened to by author, and also globally.
Among its additional functions you can find the creation and management of playlists, sharing files with the Kazaa file exchange program via a click, alphabetic listing, an integrated player, etc.
Moderal Jukebox offers you a comfortable setting with a web look that is easy to use, even if you are an occasional user. It supports the following formats: MP3, WMA, OGG, WMV, ASF, ASX, RA, RN and SWF.
Searches related to Moderal Jukebox