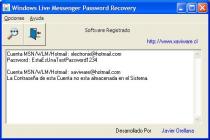 Easily recover the lost passwords in your MSN.
Life is getting easier every day, and when it comes to passwords, sometimes this can lead to a nasty surprise. If you trust the "Remember password" option in your instant messaging program, you have probably suffered a problem of not remembering what it is, especially if using another PC.
And then what? In your PC it is stored and remembered ... but won't show it to you. Well, relax, because to recover that password is quick and simple using this useful program: Windows Live Messenger Password Recovery.
As the name indicates, it allows you to recover the password of any account in Windows Live Messenger, and also in other related clients: MSN Messenger, Windows Live Mail, and Windows Messenger. So, with Windows Live Messenger Password Recovery installed in your PC you will never need to remember your passwords, and have no fear of forgetting or losing them!
Searches related to Windows Live Messenger Password Recovery