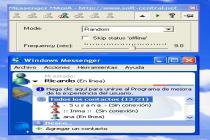 Change your status in MSN Messenger automatically.
Messenger MAniA in other languages:
Messenger MAniA en castellano
Messenger MAniA in italiano
Messenger MAniA is a utility designed to accompany MSN Messenger and add an additional function to it when you install it.
It is a program designed to change your status while in MSN Messenger, automatically and with time intervals you indicate.
Thus you can change from active to busy or off-line, or another status used in MSN Messenger with Messenger MAniA, and later return to active status without needing to do it yourself, and even without being there. Your Messenger contacts will be surprised.
Searches related to Messenger MAniA