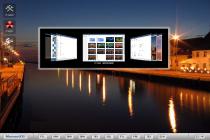 MenuetOS, a new, free operating system.
MenuetOS in other languages:
MenuetOS en castellano
MenuetOS in italiano
MenuetOS is a simple, free operating system, written wholly in 32 and 64 bit assembler language, that offers speed, reliability, stability and security. The main advantage of this system, even though it is in the process of being expanded, is its user interface, which is really easy to program, and is simply built.
Apart from that, the main features of MenuetOS are:
- really small size
- it includes a 32 bit assembler and an ASCII editor for easily building your own applications and editing the kernel as you like.
- total code and memory protection if you want it.
- it admits graphics of 16.7 million colours.
- it supports sounds of 44.1 KHz in stereo.
- it has real time window transparency
- integrated HTTP client.
Searches related to MenuetOS