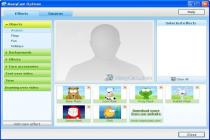 With ManyCam you can use your webcam with more than one application at the same time.
ManyCam in other languages:
ManyCam en castellano
Webcams have multiple possibilities and uses, but it isn't always possible to do them all at once. This small inconvenience is solved by ManyCam, a totally free application that lets you use one webcam with more than one program at the same time.
In addition to multiplying the possibilities of using your webcam, this program lets you add very attractive graphics to the video window of your webcam. Another interesting function is establishing the TV synchronization card or any other video source, as if it were the standard video window.
In summary, ManyCam is a program with really interesting possibilities, not only for your webcam, but also for the various video devices in your PC.
Searches related to ManyCam