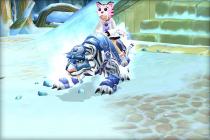 A fun, fantasy MMORPG set in a world at war with humans.
Luvinia Online in other languages:
Luvinia Online en castellano
Luvinia Online em português
Luvinia Online in italiano
The world of Luvinia Online awaits your arrival to help the Victoria Institute, home of the greatest heroes of this world, to restore peace once again that once existed in this land. And they need your help, because in the world of Luvinia, warriors capable of standing without support against the hordes of monsters that approach are few, very few, because until now they were all friends!
But centuries of peace was broken when the hearts of the fantastic races in Luvinia Online became dark, declaring an all-out war against humanity. Orcs, dwarves, gnomes and many other races now just want to erase from the face of the Luvinia all trace of humans, so choose a weapon and help defend the Victoria Institute!
With this setting, Luvinia Online offers a spectacular fantasy MMORPG in 3 dimensions, with a combat system that's agile and dynamic, much like any other action RPG, and a colourful and friendly graphic style that will delight both large and small. Help defend this precious world, while completing missions and gettin treasures in Luvinia Online!
Searches related to Luvinia Online