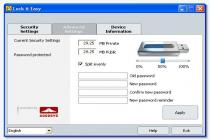 Password-protect your pendrive.
Lock it Easy in other languages:
Lock it Easy en castellano
Lock it Easy em português
Lock it Easy in italiano
If your pendrive is your biggest ally when it comes to transporting confidential information about, please download Lock it Easy, a great and totally free application which allows you to create a password for it and thus prevent intruders accessing the content.
The intuitive graphical interface of Lock it Easy lets you create, change and delete the password you add to your pendrive easily. Plus, you can divide your pendrive into two parts, one private and one public.
Lock it Easy includes a section that informs you of all the features of your pendrive, like the name, serial number, the actual size, or if it's password protected at that moment.
Searches related to Lock it Easy