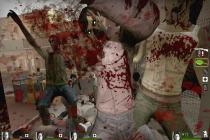 More action, more weapons and a lot more zombies.
Left 4 Dead 2 in other languages:
Left 4 Dead 2 en castellano
Left 4 Dead 2 em português
Left 4 Dead 2 in italiano
Left 4 Dead 2 w języku polskim
Here is the second part of the most apocalyptic shooter of recent times. Left 4 Dead 2 offers more zombie-killing action, the same fun and craziness as the first part, but with new characters, new areas to fight the new living dead in, and what's most important, new weapons to kill them with!
Just the same as in the original Left 4 Dead, Left 4 Dead 2 is an FPS focused above all on a co-operative mode. And although your colleagues can be controlled directly by the PC, without doubt it's more fun if you get your friends involved to clean up that shopping centre or just shoot groups of zombies. Luckily, the demo of Left 4 Dead 2 is offered here totally for free. Thus you are already wasting time to try the fun to be had in multiplayer mode in Left 4 Dead 2. And kill zombies with frying pans!
Searches related to Left 4 Dead 2