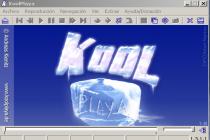 A simple multimedia player that includes many options in a small size.
Kool Playa in other languages:
Kool Playa en castellano
Kool Playa em português
Kool-Playa is a free multimedia file player based on DirectShow. It can show videos in MPG, AVI, WMV and DivX, play music in MP3 or WAV, and view digital photos in JPG, GIF or BMP. Among the main features, you will find:
- You can scale the videos bigger or smaller so it's possible to see a 16:9 video on a screen of 17 inches.
- You can change the video aspect, making it easy to correct an out of proportion or altered video.
- An independent audio file can be run synchronized with a video.
- There is an optional shutdown function to shut down the PC when the video finishes.
- A subtitles function, with support for files in "MicroDVD" format.
- Compact mode, so you can hide the title window in the toolbar, etc via shortcut keys.
Kool-Playa is a reduced size multimedia player that has all the functons you could want, and it's also totally free.
Searches related to Kool Playa