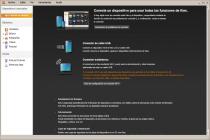 Synchronize your mobile and play multimedia content on your PC - without cables!
Samsung Kies in other languages:
Samsung Kies en castellano
Samsung Kies em português
Samsung Kies in italiano
Samsung Kies is a free official software developed by the Samsung company to synchronize your mobile (and other multimedia devices of this brand) with your PC via Wi-Fi, so you can enjoy all the multimedia content of the mobile with the comfort and quality offered by a computer.
And without cables, by connecting via the Samsung Kies Wi-Fi, which also allows downloading, through the same connection, different content from the Kies Music Store which you can easily transfer to digital devices, or maintain the software itself automatically updated on your phone, notifying you of any new official firmware from Samsung.
In addition, through Samsung Kies you can synchronize your data with your accounts in Outlook, Google or Yahoo, add or edit phone contacts through Kies, or create playlists and sync music, move folders with photos and videos to the phone and vice versa, and many other things. Don't hesitate, and maximize the possibilities of your phone with Samsung Kies.
Searches related to Samsung Kies