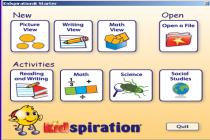 Stimulate and develop the learning and capacity of children from 4 to 10 years of age.
Kidspiration in other languages:
Kidspiration en castellano
Kidspiration is a learning and visual structuring tool for information, aimed specifically at children of 4 to 10 years. It helps them develop thinking, comprehension and writing. It lets the smallest develop skills quickly, and the older ones improve comprehension and organization of ideas.
The Kidspiration system is based on diagrams and visual schemes, ideal to represent any type of thought or information, These diagrams combine graphics, text and spoken words. There are also more than 75 predesigned activity templates with visual diagrams.
Using programs like Kidspiration via study plans is ideal for: ordering and structuring information, expressing and organizing thoughts, improving children's comprehension, and watching, listening and speaking to learn.
Searches related to Kidspiration