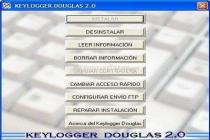 A keyboard monitoring program.
Keylogger Douglas in other languages:
Keylogger Douglas en castellano
Keylogger Douglas em português
Keylogger Douglas in italiano
Keylogger Douglas w języku polskim
Keylogger Douglas in het Nederlands
Keyloggers are applications which work to monitor and register all the keys pressed on the keyboard, with the aim of preventing, analyzing or certifying the use a specific PC is put to. Keylogger Douglas is a keylogger program that's completely free and multilingual, which also runs automatically on Windows startup, and which also has the following features:
- the whole register of keys pressed is stored in a text file. In it you can see not only the data collected but also the time and date.
- using Keylogger Douglas is totally password protected: data viewing, program access, uninstalling, etc.
- the PC user will not know that Keylogger Douglas is installed and working.
- the stored information (ie, the text file) can be sent via FTP to anywhere, or be accessed remotely via the web.
Searches related to Keylogger Douglas