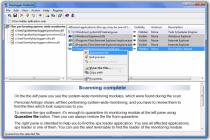 Protect your PC against keylogger programs.
Keylogger Detector in other languages:
Keylogger Detector em português
Keylogger Detector in italiano
If you often work with important data in your PC, like email account access, bank accounts or other important documents, you are probably worried about the security of your PC. Sometimes, installing a powerful antivirus isn't enough, as other malicious software can access your PC, like keyloggers.
Keylogger Detector is a simple tool with which to keep your privacy, protecting your data and your PC from unauthorized access. With this application you have the total security that no keylogger program can install itself in your PC, or register anything about what you do on it.
With Keylogger Detector you will protect your passwords, your chats and instant messaging, email and your web browsing habits. Its powerful engine can identify and delete any keylogger element, and tells you about it.
Searches related to Keylogger Detector