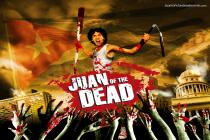 Welcome to the Cuban Revolution ... for the living dead!
Juan of the Dead in other languages:
Juan of the Dead en castellano
Juan of the Dead in italiano
Juan of the Dead is the Cuban response by Alejandro Brugués, director and screenwriter of the film, to the zombies of the current fashion prevailing throughout the world (in clear reference to the popular "Shaun of the Dead", translated into Spanish, like a "Zombies Party"). And it does so by way of more black humour, brutal and savage ... and tremendously fun.
Who is Juan of the Dead? He's a resident of Havana during the Cuban Revolution, who throughout his life has been dedicated to basically doing nothing. A lifestyle he has with his partner Lazarus, who is equally vague but twice as dumb. But when a series of bizarre incidents occur, and people who become violent and attack and eat their neighbours, he awakens to reality, and then Juan of the Dead decides it's time to work.
Because he had an idea that, he believes he can get out of poverty: by starting a zombies removal business with Lazarus and his daughter, Camila (who had no choice but to join her father when her grandmother tried to eat her) with the slogan "Juan of the Dead, we kill your loved ones." Now that's seizing the moment!
Searches related to Juan of the Dead