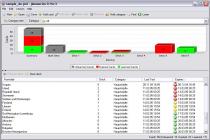 A free program to increase your ability to memorize and optimize your learning.
jMemorize in other languages:
jMemorize en castellano
jMemorize em português
jMemorize is a free application done in Java which manages and improves your learning processes via cards or files, and the well-known Leitner method. jMemorize make your learning habits not just more effective but also more fun. This way you can optimize your study and learning time. Also, in the program you can find different categories for files, statistics and a very visually attractive graphic interface.
Searches related to jMemorize