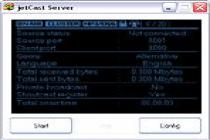 Amplify your server for listeners to JetCast.
JetCast Server in other languages:
JetCast Server in italiano
If you have already opted to spread your own music on the Internet with JetCast, you know that you can get to have the biggest number of listeners, thanks to JetCast Server.
JetCast Server is a simple application which works like a server, so as to get the largest number of listeners and support for those that use internal IPs to spread the music. JetCast Server doesn't work on its own, as you need to have the JetCast program also installed in your PC.
If your radio broadcast program already has a lot of listeners, why not get more? Just install JetCast Server in your PC. Also, to complete its functions the program includes JetAudio, so that you can edit and mix your own theme tunes before broadcasting them. What are you waiting for to try it?
Searches related to JetCast Server