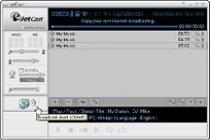 Spread your music across the Internet.
JetCast in other languages:
JetCast em português
JetCast in italiano
If you have ever heard of spreading your own music across the Internet, the ideal way to do it is with a program like JetCast.
JetCast is a radio broadcasting program which sends information on the station to a server, so that anyone can listen to it if they are connected to the Internet. But that's not all, because with this application you can make mixes with your audio files or do recordings with a microphone, and of course, edit your theme music to add even more professionalism.
And if you want to broadcast your music, but only to a select few, you can create private broadcast channels, and block unwanted listeners. Also, with JetCast you can talk with your listeners, via a chat, and exchange files with them. JetCast is compatible with the most common audio formats, like WAV, MPEG, MP3, MP2, WMA, MIDI, RMI, KAR, IMS, MOD, S3M, XM, IT, OGG, APE, MPC, and FLAC, among others.
NOTE: To complete its functions, JetCast will install together with JetAudio.
Searches related to JetCast