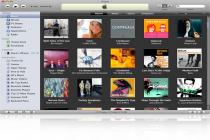 The multimedia player for the Mac, par excellence.
iTunes in other languages:
iTunes em português
iTunes is, without any doubt, the video player and music par excellence for Macs. But other than that, iTunes will be your gateway to a world of multimedia content available through your mouse, from where you can download and enjoy the latest releases, the songs of your favourite bands, games of all kinds and styles, and anything else you care to look at. If it's not in iTunes, it doesn't exist!
All this will be at your fingertips, totally for free by just installing iTunes which, how could it be otherwise, offers seamless integration with your Mac: downloading and reproducting any content will be all one smooth and continuous process.
But the utilities that iTunes offers aren't limited to Internet use, as you can extract any song from a CD to burn yourself, you can connect your iPod and transfer music between them, create or disseminate podcasts, watch Internet TV, etc. A world of fun at your fingertips, thanks to iTunes!
Searches related to iTunes