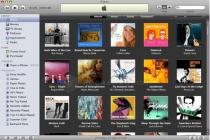 The great iTunes, free and multilingual.
iTunes in other languages:
iTunes en castellano
iTunes em português
iTunes in italiano
iTunes w języku polskim
iTunes in het Nederlands
iPod users need no explanation. For the rest, iTunes is the standard file manager for the various models of portable iPod, and iPhone. With iTunes you can play music from your PC to iPod and vice versa, organize your MP3 files, sort them into groups, burn discs from them, make libraries, podcasts, and more.
iTunes also works as a fantastic player on its own. It has a full ten-band equalizer, support for playlists, and online radio tuning. However, iTunes goes much further. For example, you can purchase at a reasonable price chapters of your favourite television shows, image quality in high definition, watch TV shows in your living room, or access to records by artist or genre.
In short, iTunes is an excellent choice to enjoy music in all its magnitude, even if you don't have an iPod.
Searches related to iTunes