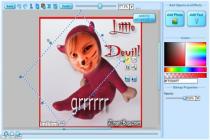 Add frames, text and effects to your photos.
Imikimi Plugin in other languages:
Imikimi Plugin en castellano
Imikimi Plugin em português
Imikimi Plugin in italiano
Imikimi Plugin w języku polskim
Imikimi Plugin in het Nederlands
With Imikimi Plugin you can design fantastic animations and images from your browser, you just have to download it and visit the website imikimi.com. The program supports Internet Explorer, Mozilla Firefox, Safari, Opera and AOL.
Decorate your favourite photos with the original frames from this Imikimi Plugin, and share them with everyone on its website completely for free!
In addition, Imikimi Plugin is very easy to use, all you have to do is choose a frame (one you've designed yourself or from another user of the website), import one or more photographs and it's ready! And you can also add shapes, text, lines, colours, transparencies, etc, and give them your personal touch!
Searches related to Imikimi Plugin