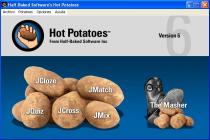 A free tool to create 6 types of web-based exercises and tests.
Hot Potatoes in other languages:
Hot Potatoes en castellano
Hot Potatoes em português
Hot Potatoes in italiano
Hot Potatoes could be defined as an interactive test and exercise creation and generation software, in the form of a webpage, aimed at young students. The program lets you create six different types of personalized exercises: multiple choice, short answer, disordered answer, crossword, pairs, gapfills. The main idea of Hot Potatoes is that these exercises you generate can be later completed on PC, using any web browser.
Hot Potatoes is based on HTML and JavaScript languages to create the exercises internally (the program user doesn't need to know how to program). You just have to upload the pages generated to a web server, so that students can access them.
In addition to creating separate exercises of the types mentioned previously, you can also create exam sequences or combinations that are a combination of them. Hot Potatoes also lets you establish which language you want to work in.
Searches related to Hot Potatoes