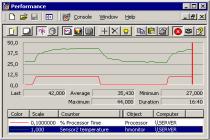 An incredible tool for monitoring and reducing the temperature in the baseplate!
Hmonitor in other languages:
Hmonitor en castellano
Hmonitor em português
Hmonitor in italiano
Hmonitor is a control tool that, via its icon in the system tray, works to watch and show you on-screen the values of some hardware components, obtained thanks to LM75/LM78/LM79 chips (or Winbond w83781d), installed in certain baseplates (like, for example the Asustek TX-97 family or the A-Bit BX6).
It is a utility so complete that you can monitor the voltages, fans or even the processor temperatures. This type of control isn't usual among PC users, but it is a key to avoiding internal problems of diverse components.
Hmonitor can reduce by up to 30 degrees the temperature of your CPU if you work with Windows 95/98/2000/NT/XP/7, and an Intel processor. In summary, an indispensible help for PCs with a lot of work to do.
Searches related to Hmonitor