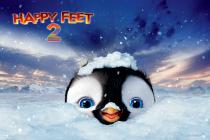 The funniest dancing penguins in cinema have returned!
Happy Feet 2 in other languages:
Happy Feet 2 en castellano
Happy Feet 2 em português
Happy Feet 2 in italiano
Happy Feet 2, sequel to the Oscar-winning Happy Feet, comes to the big screen so you can continue enjoying the adventures of these dancing penguins in their marvellous Antarctic world, recreated with impressive 3D in Happy Feet 2.
With the voices of such great actors as Elijah Wood, Robin Williams, Hank Azaria, Alecia Moore (P!nk), Brad Pitt, Matt Damon, and Hugo Weaving, in Happy Feet 2 you will see how Erik, the son Mumble the Tap teacher, escapes because he doesn't like dancing!
On his journey in Happy Feet 2 he meets Sven, a penguin who knows how to fly! Amazed by this, Erik abandons his family. Finally Mumble becomes the defender of all the animals, as a great danger is approaching the world of Happy Feet 2.
Searches related to Happy Feet 2