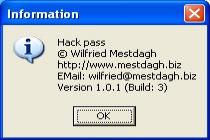 Remove the asterisks when you write your Windows password.
Hack Password in other languages:
Hack Password en castellano
Hack Password em português
Hack Password in italiano
Hack Password w języku polskim
Hack Password in het Nederlands
The Hack Password program, despite its name, doesn't "hack" anything, in fact quite the opposite. Hack Password works to manage your passwords in Windows more easily. Nothing more ... and nothing less.
That's because with Hack Password in your PC you can finally see what you write when you insert a password in Windows, in place of those irritating asterisks the system uses to hide the key. And also, Hack Password does it while offering two possibilities: do you think someone is watching you while you write your password? No problem, just don't activate Hack Password and the asterisks will still be there hiding your key.
Want to see them? Pass the mouse over the password field and Hack Password will remove the asterisks so you can see what you're typing. It doesn't get any simpler!
Searches related to Hack Password