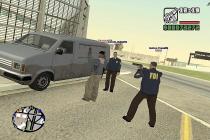 A parche for playing games of GTA San Andreas in multiplayer mode.
GTA San Andreas is a game that has won awards around the world, whose infinite possibilities have created this success, and the only criticism is it has no multiplayer mode in the official version. But now, with GTA San Andreas Multiplayer, this is no longer a problem.
GTA San Andreas Multiplayer is a parche for the popular GTA San Andreas, which not only lets you play this great game with friends, but also includes a scene creator based on scripts (PAWN technology) to be able to personalize and define any aspect of the new multiplayer mode. The power is in your hands!
And don't worry, because you will not lose anything from the original GTA San Andreas: GTA San Andreas Multiplayer gives you the option of driving all the vehicles and also using all the weapons that appear in the official version of the game. More than 5000 people from around the world all cruising the San Andreas neighbourhood at the same time! Are you going to miss out?
Searches related to GTA San Andreas Multiplayer