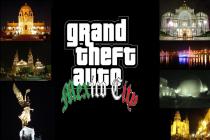 Change the streets of GTA San Andreas for those of Mexico City
GTA Mexico City in other languages:
GTA Mexico City en castellano
GTA Mexico City em português
GTA Mexico City in italiano
GTA Mexico City w języku polskim
GTA Mexico City in het Nederlands
GTA Mexico City is a project created by Mexican fans of the great game that is GTA San Andreas with which, based on small mods which you can use to change visual details in this game, you can convert the city of San Andras into the streets of Mexico City.
Thus each mod that's offered from the GTA Mexico City website modifies a detail of the game: from converting the US police cars in GTA San Andreas to their Mexican versions, to changing a visual aspect of the inhabitants of GTA Mexico City. You can also change the street signs and publicity in the streets or on the subway, the car and plane style, or add typically Mexican characters to the game.
Have no doubts. If you are tired of playing GTA in San Andreas try committing crimes in Mexico City thanks to the mods offered for free in GTA Mexico City. The game will be totally different!
Searches related to GTA Mexico City