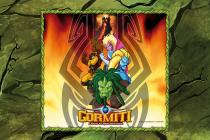 The power of the Gormiti on your screen!
Gormiti Screensaver in other languages:
Gormiti Screensaver en castellano
Gormiti Screensaver em português
Gormiti Screensaver in italiano
The sons of Gorm rest and parade every day on your screen with this fantastic Gormiti Screensavers that's offered here. Whether they are the wise Gormitis of the forest, the agile Gormitis of the sky, the clever sea Gormitis, or the powerful Gormitas of the Earth, all of them happy to visit you on your PC!
Put this downloaded Gormiti Screensaver on your PC, and enjoy visits from friends, the guardians of the planet against the evil of Magmion, every day on your computer. For when Gormiti Screensavers is installed on your computer, you won't have to wait to see new images of your favorite Gormiti, all of them at your fingertips!
Searches related to Gormiti Screensaver