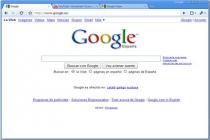 The browser from Google: quick, secure and stable.
Google Chrome in other languages:
Google Chrome en castellano
Google Chrome em português
Google Chrome in italiano
Google Chrome w języku polskim
Google Chrome in het Nederlands
Google Chrome is the web browser you can download for free which was designed by Google, the famous Internet search engine. In its inception, the main aims where clearly to improve speed, security and stability, with respect to other web browsers.
In practice Google Chrome achieves those aims well, and meets the expectations of users, showing it is really intuitive, thanks to clear and clean interface. Some of the best features of Google Chrome are:
- a simple and manageable design, based on dynamic tabs you can easily use.
- on the start page you can see thumbnails of the websites you visit most.
- an address bar that stores the visited websites, and offers search suggestions.
- an incognito mode, so you can browse without it being stored in a log.
- it is compatible with the different web standards.
- shortcuts on your desktop to the websites you want to visit instantly.
- personalizable via plug-ins and add-ons.
Also, if you are a Gmail user, with Google Chrome, via the incognito mode (which you access by opening a new window with the Ctrl+Shift+N key combo), you can keep various user accounts active simultaneously. It is, in summary, a breath of fresh air in a land dominated by Internet Explorer and Mozilla Firefox.
Searches related to Google Chrome