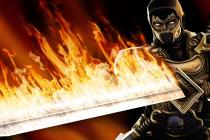 A wallpaper of the popular fight game Mortal Kombat.
Fuego in other languages:
Fuego en castellano
Mortal Kombat was a total revolution in the 1990s in the fight game genre, mainly for its crudity and hyper-realistic graphics. From its first edition the saga grew to become an authentic cult, even ending up on the big screen.
In this desktop wallpaper, called Fuego, you can see Scorpio, one of the most famous characters from the game, who featured in all editions.
This Fuego wallpaper from the Mortal Kombat game is in a size of 1024x768 pixels. However, if you need another size, others can be found on the author's website and downloaded for free.
Searches related to Fuego