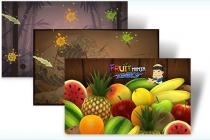 The fruit in Fruit Ninja to decorate your desktop.
Fruit Ninja in other languages:
Fruit Ninja en castellano
Fruit Ninja em português
Fruit Ninja in italiano
If you enjoy, like a child, the popular game Fruit Ninja on your phone or on the Xbox, this desktop theme for Windows 7 is made ​​for you. Because with the Fruit Ninja theme your desktop will become part of the field where this cute ninja, with hands like knives, fights for the most delicious fruits on Earth.
And although on the Windows desktop you can't fight against the fruit, while moving your hands like crazy, you can enjoy the refined appearance and beautiful designs of Fruit Ninja, as well as the traps that are everywhere! So stay alert, until you can play another game of Fruit Ninja!
Searches related to Fruit Ninja