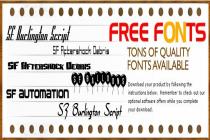 Increase the number of fonts in Windows with this great pack.
Free Fonts in other languages:
Free Fonts en castellano
Free Fonts em português
Surely, more than once you've detected that your Windows has very few fonts and you'd like to increase their number to not always have to resort to just the ones that come in Windows, or because you don't like them. Thanks to Free Fonts you can, because Free Fonts offers a broad package of multiple fonts.
It's simple to start enjoying more fonts on your PC: you just have to download Free Fonts onto your PC and follow the steps that the installation system itself tells you.
The most important thing about Free Fonts is that this font package is available completely free to download, so you have no excuses not to enjoy them.
Searches related to Free Fonts