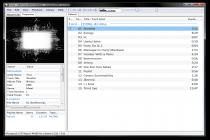 A highly functional and low resource use music player.
Foobar2000 in other languages:
Foobar2000 en castellano
Foobar2000 em português
A highly functional and low resource use music player, at the cost of losing aesthetics in comparison to other players on the market.
The program shows a main window divided into various configurable parts. So, for example, it has a part for information on the song playing, indicating the artist, title, album, track number, genre, etc. It also has another part where it shows the file size, filename, location on the drive, creation date, song duration, recording quality, type of codec recorded with and various other information to give you detailed knowledge of the song.
It also has other parts to view the image of the disc cover, and another to view the playlist. In all these parts you can configure, order and view the information you want on the song, with enough options to delight all those who like a well ordered life.
Foobar2000 has a buttons bar at the top where the playback functions are situated (play, pause, fast forward, rewind, etc). It also has a toolbar from where you can control all the program functions. Despite seeming austere at first, the program hides many advanced options.
With respect to the formats that play in Foobar2000, it admits the most popular (MP3, MP4, MPC, AAC, Ogg Vorbis, FLAC / Ogg FLAC, WavPack, WAV, AIFF, AU, SND, CDDA, WMA, etc...), and even plays compressed music files (.zip or .rar). All this consuming few resources thanks to its austere design.
It also has a powerful library where you can have all your discs perfectly catalogued and organized. It has various ordering options, for example via album, author, genre, year, etc.
Foobar2000 in this latest version has various skins to view the screen. You can change the window colours, the parts you want to view, and the zones of the windows you are working in.
It has an 18 band equalizer that's perfectly configurable, getting distinct recordings or load your preferences for each song according to your tastes.
Foobar2000 is a program to play music that's very flexible and consumes few resources. It will not interfere with your PC efficiency, and you probably won't even realize it's working. And it's also free.
Searches related to Foobar2000